104 West 40th Street Office Rental Guide
104 West 40th Street Office Rental Guide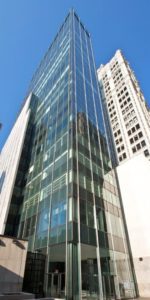 The 104 West 40th Street office tower is a boutique mid-block building that is perfect for New York City businesses requiring these features:
♦ Contemporary Class A building (1962) 
♦ Quiet location adjacent to Bryant Park
♦ Equidistant from Grand Central, Penn Station and Port Authority
♦ Bright offices with windows on three sides.
Location
104 West 4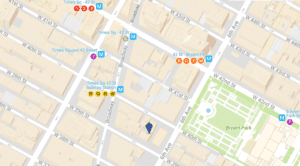 0th Street, also known as the Park House, is located between Sixth Avenue and Broadway. The building provides convenient transportation connections to employees and clients. It is equidistant from Grand Central, Penn Station and the Port Authority Terminal. Nearby subways include 1, 2, 3, N, Q R, W, B, D, F, M and the S (Shuttle).
Office Building & Design
104 West 40th Street has entrances on both 40th and 39th Street. The lobby has high ceilings, beautiful original stonework and a glass facade. A contemporary mural by artist Sarah Morris defines the lobby.
Constructed of steel and glass and designed as a side core office building, the elevators, stairs and mechanical systems are located on the westerly portion of each floor. Full floors in the base of the building are 9,800 square feet which tapers to 6,000 square feet on upper. Because of its elongated rectangular dimensions there is a high window to floor area ratio. As a result the both office intensive and open landscape office designs are attractive and efficient.
104 West 40th Street offers either turn-key fully constructed office suites that are ready for immediate occupancy, or vacant spaces that it will build-to-suit for qualified Tenants. As a rule of thumb, when an office is custom-built, a 7- 10 year lease term is required. Recently built suites feature high ceilings glass fronted offices and conference room, and contemporary pantries.
In 2018 the vacancy rate at 104 West 40th Street is a meager 2.8%, well below the 7.7% average of similar buildings in area. Sample office spaces follow:
Office Pricing at 104 West 40th Street
In 2018 the asking rent for all office space is $65.00 per rentable square foot (PSF). Cogent Realty has a track record negotiating lower rent and other leasing incentives like free rent for its clients. Call us for details, 212-509-4049.
A quick reference guide is found below.
| | | | |
| --- | --- | --- | --- |
|   | 3,500 RSF | 5,000 RSF | 10,000 RSF |
| All Offices @ $65.00 PSF | $18,958 month $227,500 year | $27,083 month $325,000 year | $54,166 month $650,000 year |
Additional office overhead costs include electricity, annual rent and real estate tax increases.
Your Corporate HQ at 104 West 40th Street  
• Class A, glass-clad office tower constructed in 1962
• 24-hour, 7- day access. Uniformed lobby concierge
• 235,000 SF total building area. Steel construction. 20 stories tall and rising 287 feet.
• 6 passenger and two freight elevators.
• Central air conditioning and heating system.
• Office cleaning included.
• Sprinkler system, emergency lighting and power.
• Telecom providers including Lightower, Level 3, Cogent, Verizon, Time Warner Cable and Megapath
• Regus office space, co-working and meeting rooms at the building.
• New York, NY 10018.
Around 104 West 40th Street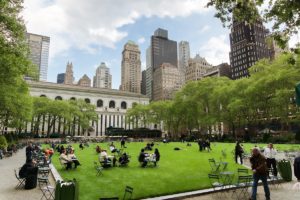 104 West 40th Street is adjacent to Bryant Park, a landscaped retreat that includes the NY Public Library. In addition to music, movies, entertainment and ice skating, Bryant Park offers quick-service restaurants open for lunch.
The city's highest concentration of restaurants is found in proximity to the building. For a listing of some of the best, link HERE. There is also a large selection of nearby hotels, including a Marriott which is adjacent to the building. Link to hotel information HERE.
About Cogent Realty Advisors
Cogent Realty Advisors is an independent and licensed NO FEE Realtor with over 15 years of experience representing businesses that lease NYC office space. Our goal is to help you find the right office at the right price. For information, phone Mitchell Waldman at (212) 509-4049.
#104West40thStreetOffice