12 Penn Plaza Office Space for Lease, Newly Constructed Commercial Building 
12 Penn Plaza Office Space for Lease, Newly Constructed Commercial Building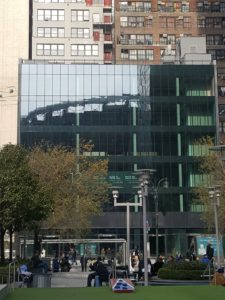 12 Penn Plaza, is a newly constructed commercial office building (completed Fall 2019) with space for lease. Key features include:
•  Ultra-accessible location across from Penn Station
• State-of-the-art building and mechanical systems 
• Private single Tenant floors measuring 4,653 rentable square feet
• Professional ownership and management
• Many nearby restaurants, hotels and services
Location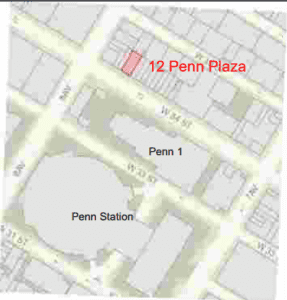 12 Penn Plaza (aka 261-263 West 34th Street) is located across from Penn 1 (One Penn Plaza) and Penn Station which has the 1, 2, 3, A, C and E subway lines; crosstown #34 bus; Long Island Railroad, New Jersey Transit and Amtrak. The Port Authority Bus Terminal is located on Eighth Avenue and 42nd Street is a five minute walk away. 
Architecture & Office Design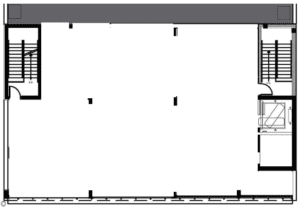 12 Penn Plaza is a side core office building which means that the elevators, fire stair (one of two), mechanical and sanitary systems are on the easterly side of each floor. The building has an efficient rectangular shape with only two columns in the center of each floor. A full wall of windows facing south provides good light and views across 34th Street of Penn 1's park-like plaza. 
At the present time all of the floors at 12 Penn Plaza are in a raw (undeveloped) condition. The Landlord (a luxury residential developer) will custom-build each floor and provide an architect to manage space planning and interior design. As an alternative, the Landlord will provide a cash contribution and rent abatement to any qualified Tenant that chooses to manage their own construction.
Your Corporate HQ at 12 Penn Plaza 
• Class A newly constructed (Fall 2019) boutique office building.
• 35,165 SF total building area.  6 stories tall. Roof deck.
• Private single Tenant 4,653 RSF floors.
• 24- hour, 7- day access. Uniformed lobby concierge (TBD) and key card access.
• 2 passenger elevators
• Tenant controlled air conditioning unit on every floor.
• Fully sprinklered building, emergency lighting and power.
• Telecom providers include Verizon FIOS and Spectrum.
• New York, NY 10001
12 Penn Plaza Office Pricing 
The asking rent at 12 Penn Plaza ranges from $85.00 to $89.00 per rentable square foot (PSF). The pricing varies with the location of the office within the building and the dollar value of the improvements that the Landlord is required to make.
Note: After negotiation your contract rent will be lower.
Additional office overhead costs include annual rent and real estate tax increases and electrical usage.
The Neighborhood Around 12 Penn Plaza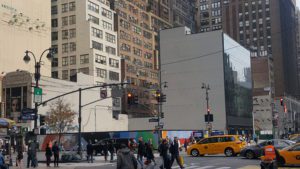 Immediately to the west of 12 Penn Plaza there is a vacant lot owned by Vornado, the largest Landlord in the area. Although its plans for development have not been announced, a retail, dining and entertainment venue is anticipated. Just to the east at 255 West 34th Street a towering hotel is being built by Joe Chetrit. Much of the areas revitalization can be credit to the spectacular Hudson Yards development.
For 25 nearby restaurants link HERE. For Trip Advisor's Top Ten Hotels near Penn Station link HERE.
About Cogent Realty Advisors
You will save valuable time, energy and money by using Cogent Realty to negotiate your lease. Cogent Realty is an independent and licensed NO FEE Tenant Representation Broker with over 20 years of experience representing NYC businesses. Cogent maintains an extensive Building and Landlord database as well as current "closed deal" contract information. We will find you the right space at the right price. Phone: (212) 509-4049.
#12PennPlazaOffice