450 Seventh Avenue Office Space, Business Rental Guide 2019/2020
450 Seventh Avenue Office Space, Business Rental Guide 2019/2020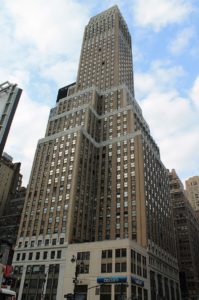 450 Seventh Avenue Office Space is an excellent choice for New York City businesses requiring these key features:
•  Ultra-accessible location across from Penn Station
• Clean, secure and well maintained Class B office building
• Efficient office suites for small- and mid- size businesses
• Professional on-site ownership and management
• High density of nearby restaurants, hotels and services
Location
450 Seventh Avenue is located at the north west corner of 34th Street across from  Penn Station which has the 1, 2, 3, A, C and E subway lines; crosstown #34 bus; Long Island Railroad, New Jersey Transit and Amtrak. Port Authority Bus Terminal at Eighth Avenue and 42nd Street is a five minute walk away. 
Architecture & Office Design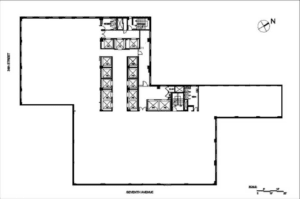 450 Seventh Avenue is a center core office building which means that the elevators, stairs and mechanical systems are in the middle of each floor. The building has an irregular shape which yields a high window-to-floor area ratio. As a result most office spaces enjoy excellent light and views when designed as either open collaborative work environments or with a more traditional layout including perimeter offices.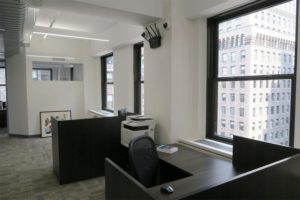 450 Seventh Avenue offers both turn-key fully constructed office suites that are ready for immediate occupancy and raw spaces that it will build-to-suit for qualified Tenants. As a rule of thumb, when the Landlord custom-builds an office it will require a 7- 10 year lease term. Recently built suites feature high ceilings (finished or open), upgraded lighting fixtures, glass fronted offices, and contemporary pantries. All offices include a Tenant-controlled air conditioner that can provide cooling on a year-round basis.
Due to sustained strong demand the overall vacancy rate at 450 Seventh Avenue is only 5.5% as of October  2019. Notwithstanding, because the building has 100's of Tenants there is a steady stream of offices that become available for lease on a regular basis.  A small sample of suites is shown below.
450 Seventh Avenue Office Pricing 
In 2019/2020 the asking rent at 450 Seventh Avenue ranged from $62.00- $64.00 per rentable square foot (PSF). The pricing varies with the location of the office within the building (elevation, lighting, views) as well as the dollar value of the improvements that the Landlord is making. Note: After negotiation your contract rent will be lower.
Additional office overhead costs include annual rent and real estate tax increases and electrical usage.
Your Corporate HQ at 450 Seventh Avenue 
• Class B Art Deco style office building constructed in 1931.
• Lobby renovation completed 2018. A renovation of all corridors and bathrooms will be completed soon.
• 520,000 SF total building area. 16,800- 5,582 RSF floors. 46 stories tall and rising 560 feet.
• 24- hour, 7- day access. Uniformed lobby concierge and turn-style access cards for Tenants.
• 13 passenger and two freight elevators
• Tenant controlled air conditioning unit in each suite.
• Fully sprinklered building, emergency lighting and power.
• Telecom providers include Level 3 Communications, Lightpath, Verizon FIOS, TW Cable and Megapath.
• Diverse Tenant mix includes law, accounting, financial services, insurance, technology and fashion
• Onsite stores include Citibank, Walgreen's, Starbucks and AT&T
• New York, NY 10001
The Neighborhood Around 450 Seventh Avenue 

World famous Macy's department store is across the street.  For 25 nearby restaurants link HERE. For Trip Advisor's Top Ten Hotels near Penn Station link HERE.
About Cogent Realty Advisors
You will save valuable time, energy and money by using Cogent Realty to negotiate your lease. Cogent Realty is an independent and licensed NO FEE Tenant Representation Broker with over 20 years of experience representing NYC businesses. Cogent maintains an extensive Building and Landlord database as well as current "closed deal" contract information. We will find you the right space at the right price. Phone: (212) 509-4049.
#450SeventhAveOffice