7 Penn Plaza Office Rental Guide
7 Penn Plaza Office Rental Guide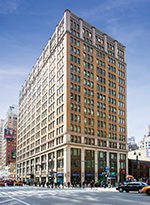 7 Penn Plaza is a boutique office building strategically located at the south west corner of Seventh Avenue and 31st Street, directly across the street from Penn Station, NYC's busiest transportation hub. It has a diverse Tenant mix including financial services firms, technology, law, real estate development, architecture and not-for-profits.  
7 Penn Plaza, aka 370 Seventh Avenue, is an excellent choice for small- to midsize- firms that are looking for fast access to Penn Station and a high quality building with professional management. 
Office Building & Design
7 Penn Plaza was built in 1921 and last renovated in 2012. Each floor has four exposures and a high window-to-floor area ratio. Both office intensive and open landscape designs are bright and efficient. Higher floors have excellent light and city views.  
Incoming Tenants can lease turn-key fully constructed office suites that are ready for immediate occupancy or raw spaces that the Landlord will build-to-suit. When an office is custom-built a 5- 10 year lease term is required.  Sample offices are shown below: 
Office Pricing at 7 Penn Plaza 
For 2019 the quoted asking rent for all offices is $70.00 per rentable square foot (PSF). Offices on lower floors may be discounted. Cogent Realty has a track record negotiating lower rents and other leasing incentives like free rent for its clients. Call us for details, 212-509-4049.
Your Corporate HQ at 7 Penn Plaza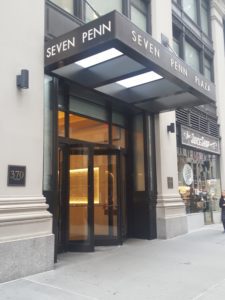 ♦ Class B office building. 
♦ New lobby, elevators and mechanical systems.
 ♦ 24-hour, 7- day access and uniformed lobby concierge.
 ♦ 357,000 SF total building area. Concrete and steel construction. 18 stories tall and rising 242 feet.
♦ 8 passenger and two freight elevator.
♦ 11′ 6″ foot slab-to-slab ceiling heights. 
♦ Efficient central heating and air conditioning. AC hours are Monday to Friday 8 am- 6 pm and Saturday 8 am – 1 pm. Tenant controlled AC units can be installed.
♦ Telecom providers include Verizon and Time Warner.
♦ Owner occupied and managed.
♦ New York, NY 10001.
About Cogent Realty Advisors
Cogent Realty Advisors is an independent and licensed NO FEE Realtor with over 20 years of experience representing businesses that lease NYC office space. Our goal is to help you find the right office at the right price. For information, phone Mitchell Waldman at (212) 509-4049.
#7PennPlaza