Empire State Building Office Space, Business Rental Guide for 2019
Empire State Building Office Space, Business Rental Guide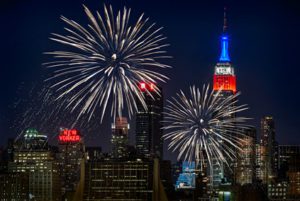 Empire State Building Office Space is a fantastic choice for New York City businesses requiring these key features: 
•  Strong corporate credibility and prestige by locating at one of the world's most famous buildings
• Modernized best-in-class business environment, Tenant amenities and technology
• Excellent value compared to alternative Class A buildings
• Large inventory of pre-built move in ready office suites
• Prestigious Tenant roster with well-known Fortune 500 companies
• Professional ownership and management
• High density of nearby restaurants, hotels and services
LOCATION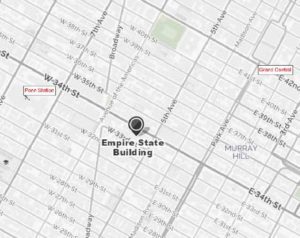 The Empire State Building is located at 350 Fifth Avenue at the south west corner of 34th Street. This location is equidistant from both Penn Station and Grand Central Terminal. The #6 train is found on Park Avenue and 33rd Street and the N, R, Q, W, B, D and F at 34th Street and Broadway. Both Fifth Avenue and 34th Street have bus service. 
Empire State Building architecture & Office Design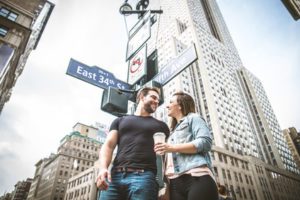 Soaring 1,454 feet over midtown Manhattan, the Empire State Building is a center core office building which means that the elevators, stairs and mechanical systems are in the middle of each floor. As a result there are windows on four sides providing excellent light and views in both open collaborative work environments and more traditional  layouts with perimeter offices.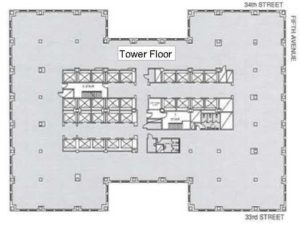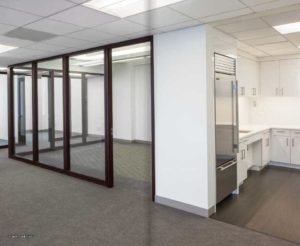 The Empire State Building offers intelligently designed fully constructed office suites that are ready for immediate occupancy. All suites feature interior finishes that exceed those found in most other Class A buildings. Included are high ceilings (finished or open), upgraded lighting fixtures, wood and glass fronted offices, and contemporary pantries outfitted with Energy Star- rated stainless steel appliances. 
 There is a large inventory of offices available for lease ranging from 2,800 rentable square feet (RSF) up to full tower floors of 26,000 RSF. A small sample of office suites is shown below. (Note: Furniture is not included.)
Empire State Building Office Pricing 
In 2019 the asking rents range from $68.00 per rentable square foot (PSF) on the lower floors up to $75.00 PSF on tower floors.  A quick reference table is below. (Note: After negotiation your contract rent will be lower.)
| | | | |
| --- | --- | --- | --- |
| | 2,750 RSF | 5,000 RSF | 10,000 RSF |
| Lower Floor @ $68 PSF | $15,583 per month    $186,999 per year | $28,333 per month $339,998 per year | $56,666 per month $679,999 per year |
| Mid-rise @ $72 PSF | $16,500 per month   $198,000 per year | $30,000 per month $360,000 per year | $60,000 per month $720,000 per year |
| Tower Floor @ $75 PSF | $17,187 per month   $206,250 per year | $31,250 per month $375,000 per year | $62,500 per month $750,000 per year |
Additional office overhead costs include electricity and annual rent and real estate tax increases.
Your Corporate HQ at the Empire State Building
• Class A office Art Deco style office building constructed in 1931. In 2010 $550 million was spent on infrastructure renovations and energy efficiency. 
• 2,800,118 SF total building area. 12,905 – 100,512 RSF floors. 102 stories tall and rising 1,454 feet.
• 24- hour, 7- day access. A total of four dedicated Tenant-only entrances on 33rd and 34th Street. Uniformed lobby concierge, uniformed security and turn-style access cards for Tenants.
• Visitor reception desk, card access controlled web-based visitor processing system. 
• 73 passenger and six freight elevators
• Central HVAC provided Monday to Friday, 8:00 am- 6:00 pm. Overtime and supplemental AC available.
• Fully sprinklered building, emergency lighting and power.
• Telecom providers include AT&T, Broadview Networks, Cogent Communications, Covad, Earthlink Business, Level(3) Communications, MegaPath, Rainbow Broadband, Time Warner Cable, Time Warner Cable Business Class, Verizon, Verizon FiOS, XO Communications.
• Six nearby parking garages. Bicycle area.
• Owned and managed by ESRT, a publicly traded company.
• New York, NY 10118
The "Urban Campus" at The Empire State Building
The Empire State Building office spaces benefit from an "Urban Campus" designed for today's work-life style.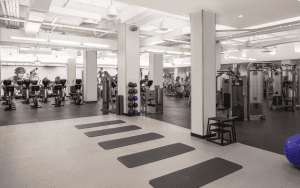 15,000-square-foot Tenant-only Fitness Center.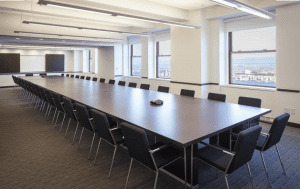 Conference Center for Tenants only offering spectacular views and catering.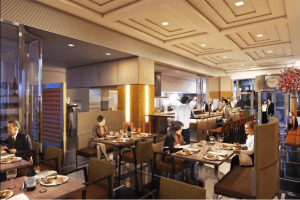 Private Executive Dining at the STATE Grill and Bar (called a "winner" by ZAGAT). Additional building dining options include Heartland Brewery, Chipotle  and Europa Café. 
More Dining Options at the Empire State Building
About Cogent Realty Advisors
Cogent Realty Advisors is an independent and licensed NO FEE Realtor with over 15 years of experience representing businesses that lease NYC office space. Our goal is to help you find the right office at the right price. For information, phone Mitchell Waldman at (212) 509-4049.
#EmpireStateBuildingoffice