Luxury Office Space in the Plaza District
Luxury Office Space in the Plaza District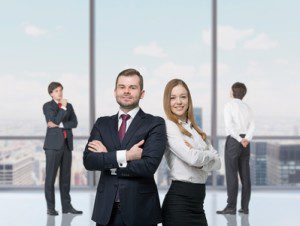 Luxury Office Space in the Plaza District continues to be leased by financial firms, although at slower rate than TAMI companies are signing for creative units in Midtown South and Lower Manhattan. According to Costar, the Commercial Real Estate Information Company, Plaza District Rents increased from an average of $69.93 PSF at year's end 2014, to $70.36 PSF in Q1 2015. However, in the more exclusive buildings contract rents range from $90 to $175 PSF. As a rule of thumb less expensive rents are found in older buildings with side street entrances. 
A Small Selection of Plaza District Luxury Office Space
Constructed in 2009, 510 Madison Avenue (S/W/C 53rd Street) is the Plaza District's newest elite office tower. Contained within its gleaming 30 floors are a 6,500 RSF garden terrace, private health club with lap pool and luxury retail stores. Private floors measure 11,500 RSF to 16,500 RSF. Offices as small as 2,500 RSF are sometimes offered. Rents are from $135 PSF and include an elegant custom office designed by Gensler.    
IBM constructed its 1,030,000 SF world headquarters at 590 Madison Avenue  (S/W/C 57th Street) in 1981. It later sold the building which was upgraded in 2006 and features an exterior of polished black granite, a glass-enclosed greenhouse off the main lobby, restaurants, shops and access to the Trump Tower next door. The building is owned by the venerable Minskoff family. 590 Madison Avenue has a good supply of available office pace, some of which is pre-built and ready for move-in. Rents are on request.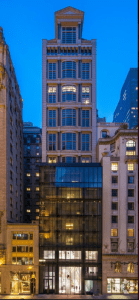 693 Fifth Avenue (55th Street) was developed in 1993 by the Japanese retailer Takashimaya, and sold in 2011. Valentino now leases the ground floor store. The building has an intimate environment with private floors of 2,502 to 6,367 RSF. Amenities include a concierge attended lobby, tenant controlled HVAC and opulent custom designed offices. 
Best Strategy for Finding Luxury Office Space
Your organization can save valuable time and money when it uses Cogent Realty Advisors, Inc. to find and negotiate for luxury office space. Cogent is an independent and licensed no fee broker with over 15 years of experience representing NYC businesses that lease office space.