NYC Office Market Report, Mid-Year 2019
NYC Office Market Report, Mid-Year 2019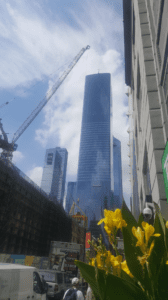 NYC Office Market Report, Mid-Year 2019 was compiled by Cogent Realty Advisors using data provided by Costar, the Commercial Real Estate Information Company. 
Cogent Realty Advisors is licensed Tenant-Representation Broker that works for business owners that lease office space. Established in 2002, Cogent Realty is 100% committed to finding you "the right office space at the right price". All of our services are provided on a NO FEE basis.
NYC Office Market Snapshot
At mid-year 2019 the average quoted office rent in New York City across all building classes was $72.90 per square foot. This is an increase of $0.51 compared to Q1 2019. Vacancy increased to 9.9% from the prior quarter's 9.6%. Additional market data is found below.  

Rents and Vacancy by Neighborhood
The average quoted office rent and vacancy by neighborhood is found in the table below.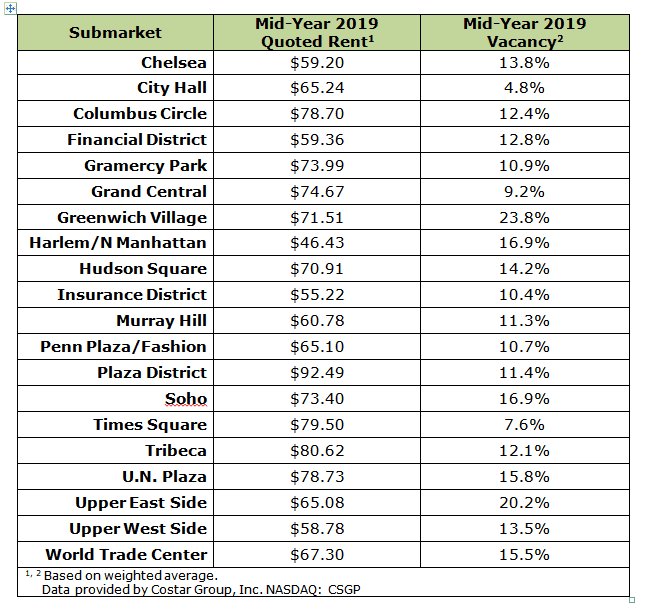 NOTES: (a) The tables above list the average quoted asking rent reported to Costar. Estimates may be used for office buildings that do not publish this information. (b) After lease negotiation the actual contract rent is usually lower.
Top 4 Office Construction Projects 
There is approximately 27.1 million square feet of office space under construction in New York City with most of it in the Hudson Yards. Notable projects include:
The Spiral (66 Hudson Boulevard): 2,850,000 RSF. Delivers Q4 2022. 
30 Hudson Yards (500 West 33rd St.):  2,600,000 RSF. Delivers Q3 2019.  
Two Manhattan West (385 Ninth Avenue): 1,950,140 RSF. Delivers Q4 2022.
Three Hudson Boulevard (555 West 34th Street): 2,000,000 RSF. Delivers Q4 2022.
Strategies for Reducing Office expense 
(1) Relocate for Savings: Consider moving from a high rent building to a more economical location. During the current bull market many "value-priced" Class B buildings have been upgraded and now provide new lobbies and elevators, new mechanical infrastructure and newly constructed office spaces.
(2) Space Reduction and Redesign:  Businesses can reduce the size of their offices by modifying the design and the area occupied by each employee. Use our office space calculator to estimate your size requirement.
(3) Flex Work, Business Centers and Telecommuting: Flexible work schedules may allow two or more employees to utilize a specific work area. Some companies use hourly or daily rentals at off-site business centers for part-time staff and conferences. Where practical utilize telecommuting.
Links for News about NYC & Global Real Estate
A sensible decision to expand our tech sector: 'NYC Tech Hub' to bring an end to long-running land use saga
Too much shared work space? As Coworking Conquers Markets, Landlords Wonder How Much Is Too Much.
Planned real estate IPO raises questions: WeWork's IPO documents baffled an analyst who specializes in evaluating companies preparing to go public.
The sweeter side of real estate: I Scream, You Scream: Museum of Ice Cream to Launch NYC Flagship.
Improving a floor plan: The often hated open floor plan gets a new savior, the office pod.
ABOUT COGENT REALTY ADVISORS 
Cogent Realty Advisors is an independent and licensed NO FEE Realtor that represents businesses that lease NYC office space. For information, phone Mitchell Waldman at (212) 509-4049.
#NYCOfficeMidYear2019