NYC Office Market Report, Third Quarter 2018
NYC OFFICE MARKET REPORT, THIRD QUARTER 2018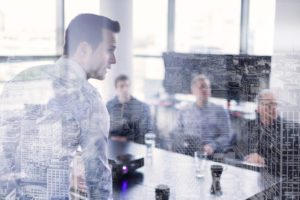 NYC Office Market Report, Third Quarter 2018 was compiled using data provided by Costar, the Commercial Real Estate Information Company. This report is written for business owners that need accurate information about the local office market. 
In the third quarter of 2018 the average quoted rent in the NYC office market across all building classes (A, B & C quality) was $61.52 per square foot. This is a $1.19 PSF increase compared to $60.33 in the second quarter. The vacancy rate in the third quarter was 7.7%, a reduction from the prior quarter's 8.0%.  Additional market data is found below.

NYC Office Market Rents and Vacancy by Neighborhood
Third quarter 2018 average quoted office rents and vacancy by neighborhood is found in the table below.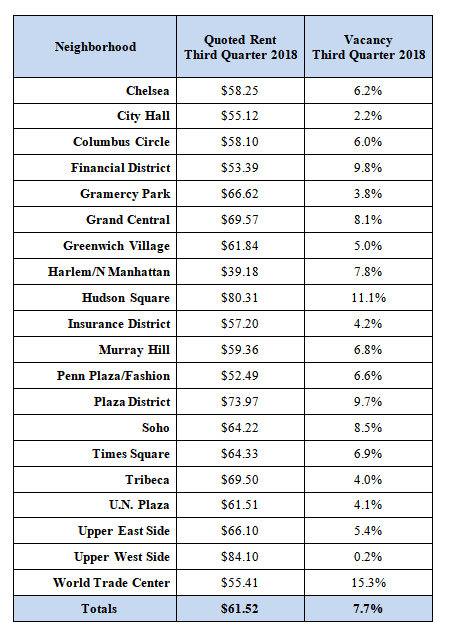 NOTE: (a) The tables above list the average quoted asking rent reported to Costar. Some office buildings do not publish this information. (b) After lease negotiation the actual contract rent is usually lower.
5 Largest NYC Office Leases Signed in Q3 2018
Bessemer Trust Company N.A.: 239,000 RSF at 1271 Avenue of the Americas in Columbus Circle. 
WeWork: 216,858 RSF at 21 Penn Plaza in the Penn Plaza/Fashion district. 
Evercore Partners: 154,828 RSF at Park Avenue Plaza (55 East 52nd Street) in the Plaza district.  

 116,055 RSF at 530 Fifth Avenue in Times Square. 
Spaces: 109,364 RSF at Chrysler Building (405 Lexington Avenue) in Grand Central.
♦ 3 of the Top 5 Leases were signed by shared work space providers. It is estimated that this industry now occupies 3.5% of the total office space in New York City.
TOP 5 NYC OFFICE CONSTRUCTION PROJECTS
There was 3,051,211 square feet of office space being constructed during the second quarter of 2018. 
55 Hudson Yards (550 West 34th St.): 1,556,136 RSF. Delivery Q4 2018. 88% pre-leased. Developer- The Related Companies. 
One Manhattan West (400 West 33rd St.): 2,216,609 RSF. Delivery Q1 2019.  86% pre-leased. Developer- Brookfield Office Properties. 
30 Hudson Yards (500 West 33rd St.):  2,600,000 RSF. Delivery Q3 2019. 100% pre-leased. Developer- Oxford Properties Group. 
One Vanderbilt Avenue: 1,732,955 RSF. Delivery Q3 2020. 100% pre-leased. Developer- SL Green Realty Corp., Inc. For a construction tour link HERE. 
Two Manhattan West (385 Ninth Ave.): 1,950,140 RSF. Delivery Q1 2023. 0% pre-leased. Developer- Brookfield Office Properties. 
IDEAS FOR REDUCING NYC OFFICE EXPENSE
(1) Space Reduction and Redesign:  Businesses can reduce the size of their offices by modifying the design and reducing the area occupied by each employee. Use our office space calculator to estimate your essential requirement.
(2) Flex Work, Business Centers and Telecommuting: Flexible work schedules may allow two or more employees to utilize a specific work area. Some companies use hourly or daily rentals at off-site business centers for part-time staff and conferences. Where practical utilize telecommuting.
(3) Relocate for Savings: Consider moving from a high rent building to a more economical location. During the current real estate cycle many affordable Class B buildings have been substantially upgraded and provide new infrastructure and  modern work spaces.
ABOUT COGENT REALTY ADVISORS 
Cogent Realty Advisors is an independent and licensed NO FEE Realtor with over 15 years of experience representing businesses that lease NYC office space. Our goal is to help you find the right office at the right price. For information, phone Mitchell Waldman at (212) 509-4049.
#NYCOfficeQ32018