Office Rental Rates in NY- First Quarter 2014
Office Rental Rates in NY- First Quarter 2014
Costar Group, the Commercial Real Estate Information Company reports that the NYC office vacancy decreased from 8.4% in 2013 to 8.5% at the end of Q1 2014. Office rental rates in NY notched up to $54.55 PSF from $52.28. Much of the space was leased by TAMI companies (technology, advertising, media and information). Notable among them were Twitter, IBM Watson Group and the collaborative office space provider WeWork, which alone leased 150,000 RSF. 
For a more detailed look at HISTORICAL RENTS IN Class A, B and C buildings city wide examine the table and graph below.
                   Q1 2014         Year-End 2013
Class A @    $59.44            $57.40
Class B @    $50.44            $48.35
Class C @    $46.66            $43.64

SUB-MARKET STATISTICS
Midtown: Grand Central, Plaza, Columbus Circle, Times Square, Penn Station/Garment Center, Murray Hill and United Nations Plaza.
Midtown South: Gramercy Park, Chelsea, Hudson Square, Greenwich Village and SOHO.
Downtown: Financial, Insurance, City Hall, Tribeca and the World Trade Center.
Uptown: Upper East Side, Upper West Side,  and Harlem/North Manhattan.

INDIVIDUAL MARKET STATISTICS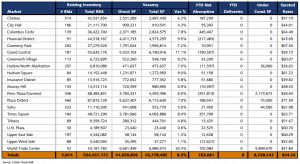 Office Rental Rates in NY… Staying WITHIN YOUR Budget
Suggestions follow: 
(1) Relocation: Downtown has many quality buildings for lease at a 20- 35% discount over midtown. The Lower Manhattan Commercial Revitalization Program offers total rent credits of $10 PSF for qualifying businesses.
(2) Space Reduction and Redesign: Businesses are reducing the overall size of their offices by changing the design and paring down the area occupied by each employee. Use our simple office space calculator to estimate your essential requirement. 
(3) Flex Work and Telecommuting: Flexible work schedules may allow two or more employees to utilize a specific work area. Where practical utilize telecommuting.
 OFFICE RENTAL RATES IN NY…Best Strategy for Leasing space
With over 15 years of experience providing NO FEE Tenant Representation, Cogent Realty Advisors will secure affordable office rental rates in NY for your business. Contact Mitchell Waldman today: (212) 509-4049.