One Penn Plaza Office Space, Business Rental Guide
One Penn Plaza Office Space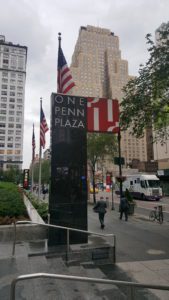 One Penn Plaza Office Space is an intelligent choice for New York City businesses requiring these key features:
• Ultra- accessible location at Penn Station
• Excellent value compared to alternative Class A buildings
• Large inventory of spaces
• Modern best in class building, tenant amenities and technology
• Professional ownership and management
• High density of nearby restaurants, hotels and services.
LOCATION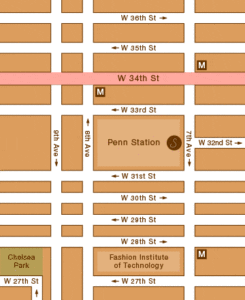 One Penn Plaza is part of Penn Station which has the 1, 2, 3, A, C and E subway lines; crosstown #34 bus; Long Island Railroad, New Jersey Transit and Amtrak. The building provides convenient transportation connections to employees and clients.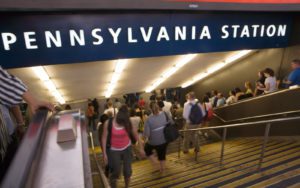 One Penn Plaza Building & Office Design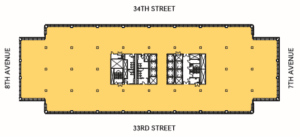 One Penn Plaza is located mid-block between 7th and 8th Avenue and spanning 34th to 33rd Street. Entrances and lobbies are located at both 34th and 33rd Street. The building has windows on four sides which provides excellent light and views in both open collaborative work environments and traditional spaces with perimeter offices. One Penn Plaza is a center core office building which means that the elevators, stairs and mechanical systems are in the middle of each floor.
New Tenants at One Penn Plaza have a choice of three office leasing programs: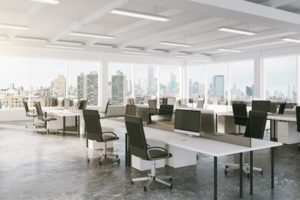 (1) Pre-built and previously occupied office space that the Landlord will renovate;
(2) Raw/unfinished space that the Landlord constructs to your specifications. Included are the services of an architect to assist with space planning; and
(3) Raw/unfinished space that a Tenant constructs on its own utilizing money (the "cash contribution") and time (the "rent abatement") provided by the Landlord.
​
UPDATE: Spring 2018
New office space available for lease.
Call for information: 212-509-4049
Office Pricing at One Penn Plaza
In 2018 the asking rents range from $75.00 per rentable square foot (PSF) on the lower floors up to $85.00 PSF on upper floors. Offices sizes as small as 2,000 RSF and as large as 61,000 RSF full floors are available. A convenient reference table is below.
| | 2,750 RSF Office  | 5,000 RSF Office | 10,000 RSF Office |
| --- | --- | --- | --- |
| Lower floors @ $75.00 PSF | $17,187 per month    $206,250 per year | $31,250 per month $375,000 per year | $62,500 per month $750,000 per year |
| Upper floors  @ $85.00 PSF | $19,479 per month   $233,750 per year | $35,416 per month $425,000 per year | $70,833 per month $850,000 per year |
Additional office overhead costs include electricity which is fixed at $3.50 PSF and annual rent and real estate tax increases.
One Penn Plaza- Your Corporate HQ 
• Class A office building constructed in 1972, renovated in 1995
• $85 million in recent capital improvements
• 2,524,000 total building area with floors ranging from 37,000 to 80,000 RSF; 57 stories tall and rising 750 feet
• 24- hour, 7- day access, uniformed lobby concierge, uniformed security and turn-style access cards for Tenants
• 44 passenger and two freight elevators
• Central HVAC provided Monday to Friday, 8:00 am- 6:00 pm. Overtime and supplemental AC available.
• Fully sprinklered building, emergency lighting and power
• LEED and Energy Star certified 
• Conference and meeting rooms available for rent onsite through PowerSpace and Breather.
• Telecom providers include Verizon, Cogent, MCI/Verizon Business, Time Warner Telecom, Con Ed, AT&T, Time Warner Cable, Direct TV, Light Tower
• 695 car underground garage
• Owned and managed by Vornado, a publicly traded company
• New York, NY 10119
• Tenants include Citigroup, Cisco, AECOM, Level3 Communications, Morgan Stanley and Siemens
UPDATE: Spring 2018
Vornado Realty has begun a substantial capital improvement program that will include a new entrance, lobby and Tenant's only amenity floor with meeting areas, a restaurant, bar/lounge and health/wellness facility. The building will be re-branded PENN 1.
The One Penn Plaza NEIGHBORHOOD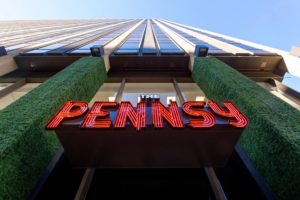 In the Penn Station concourse there are many food options including Starbucks, Shake Shack, Magnolia Bakery, Pret A Manger, TGI Fridays, pizza etc. On the street level try the recently opened Pennsy food hall and bar, Lucy's Cantina and Lugos Italiana, For 25 nearby restaurants link HERE. For Trip Advisor's Top Ten Hotels near Penn Station link HERE. 
ABOUT COGENT REALTY ADVISORS 
Cogent Realty Advisors is an independent and licensed NO FEE Realtor with over 15 years of experience representing businesses that lease NYC office space. Our goal is to help you find the right office at the right price. For information, phone Mitchell Waldman at (212) 509-4049.
#OnePennPlazaOffice
Save
Save
Save
Save