One World Trade Center Office Rental Guide 2021
One World Trade Center Office Rental Guide 2021
Renting an office at One World Trade Center is a defining moment for a global business.
• A universally recognized symbol of prosperity, freedom and resilience
• An ultra-modern urban design with rich corporate amenities and best-in-class technology, efficiency and safety  
• Excellent value for your rental dollars 
• Direct in-building access to the new Fulton Street Station transportation complex and luxury shops at the Westfield  World Trade Center. The architectural focal point of this underground city is the Oculus.  
• High quality neighborhood restaurants, hotels and services. Link follows:  Downtown Alliance.
• Professional on-site ownership and management
Tenant Community 
One World Trade Center describes itself as "Home to New York City's largest TAMI (technology, advertising, media information) tenant community". Notwithstanding, all business categories are represented and the largest Tenant is Conde Nast publishing. 
Ultra-Modern Office Building
One World Trade Center is a center core office building which means that the elevators, stairs and mechanical systems are in the middle of each floor. As a result all spaces are column free and have spectacular light and views. 
At One World Trade Center most work spaces are designed as wide-open collaborative work environments. However, tradition layouts with perimeter glass fronted offices and conference rooms are both efficient and impressive.
Three Different Leasing Programs are Offered: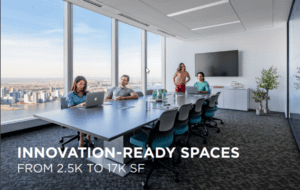 #1: Pre-built move-in ready office space with elegant finishes.
#2: Unfinished/white box space that the Landlord will build to your design specifications.
#3: Unfinished/white box space that you can build on your own utilizing money (the "cash contribution") and time (the "rent abatement") provided by the Landlord.
2021 Offices for Lease
Shown below are sample offices. Furniture is not included and is displayed for space planning purposes only. Offices measuring less than 5,000 rentable square feet are in high demand and rent very quickly. 
One World Trade Center Office Rental- Direct Leases 
As a result of the impact of the Covid-19 pandemic on the office market more flexible lease terms are being offered. Asking rents are from $75.00 to $85.00 per rentable square foot (PSF) depending on the floor and view.
For example, the 3,510 RSF office shown above has an asking rent of $80.00 per rentable square foot. $80.00 X 3,510 RSF = $280,800 per year or $23,400 per month. Cogent Realty has a solid track record negotiating lower rents and other leasing incentives like free rent for its clients. Additional office overhead costs include electricity, annual rent and real estate tax increases. Municipal Incentives may be available to reduce your occupancy cost. 
Sublease Office Rental Pricing
A Sublease can offer a discounted rent for pre-built office space, and frequently furniture, fixtures and office equipment is included. Here is a link to our blog Sublease Rewards and Sublease Risks.  
At the start of 2021 there was 369,000 RSF of Sublease office space for rent at One World Trade Center. Call for updates: (212) 509-4049,
For more information about leasing office space at One World Trade Center LINK HERE.
Your Corporate HQ at One World Trade Center 
• Class A ultra-modern office building built in 2014
• 1,776 feet tall, the highest in the Western hemisphere
• 3,038,168 RSF total building area with 40,000 RSF floors and 104 floors
• 24- hour, 7- day access, uniformed lobby concierge, security monitoring and turn-style access cards for Tenants
• 71 fast passenger elevators and 12 escalators
• LEED Gold certification
• Owned and managed by Durst Corporation and the Port Authority of NY/NJ
• Alternate address: 285 Fulton Street, New York, NY 10007
Introducing One World Commons

Located on the 64th floor, One World Commons is a 25,000 square foot amenity space designed to attract, inspire and retain companies and their employees. This world-class social and business hub includes conference, meeting and event rooms, lounges, a game room and cafe. 
ABOUT COGENT REALTY ADVISORS 
Cogent Realty Advisors is an independent and licensed no fee Realtor with over 20 years of experience representing businesses that lease NYC office space. Our mission is to help you find the right office at the right price. For information, phone Mitchell Waldman at (212) 509-4049.
#oneworldtraderental2021