One World Trade Center Office Space
One World Trade Center Office Space
For a 2019 Rental Guide Update Link HERE
One World Trade Center Office Space is a fantastic choice for NYC and global businesses requiring these key features:
• Recognized throughout the world as a symbol of US resilience, freedom and prosperity
• Easily accessible location connected to the Fulton Street Station 
• Ultra-modern urban design, amenities and technology 
• Large inventory of spectacular offices in all sizes 
• Fair pricing that offers a comparatively excellent value 
• Professional ownership and management
• Great selection of nearby restaurants, hotels and services.
LOCATION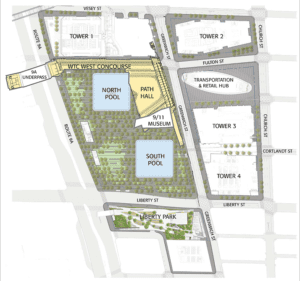 One World Trade Center is part of a corporate campus that when completed will have 11 million square feet of NYC's most elegant office space.  The World Trade Center Transportation Hub contains PATH Hall with trains to New Jersey. and it will soon connect to the Fulton Street Station which has the 2, 3, 4, 5, A, C, J, N, R and Z subway lines. Ferry connections are found nearby to upper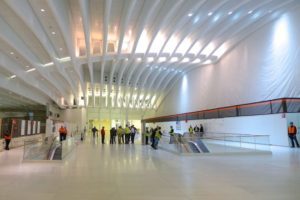 Manhattan, Staten Island, Queens and New Jersey. Beneath the World Trade Center, there is a 450,000 SF shopping center with over 100 top-notch retailers. There is an abundance of eat-in and take-out restaurants to choose from. The focal point of this mall is the Oculus. 
One World Trade Center Offices for You
One World Trade Center is a center core office building which means that the elevators, stairs and mechanical systems are in the middle of each floor. As a result, the portion of each floor occupied by office users has a somewhat shallow depth and correspondingly high window-to-floor ratio. This delivers spectacular light and views to both open collaborative work environments and more traditionally designed spaces with perimeter executive offices. New Tenants have a choice of three rental programs: (1) Pre-built move-in ready office space with very high-end finishes; (2) Raw/unfinished space that the Landlord will build to your design specifications; (3) Raw/unfinished space that you as a Tenant can build utilizing funds (the "cash contribution") and time (the "rent abatement") provided by the Landlord. Floor plans for a small sample of available spaces follow. Call with your requirement (212) 509-4049.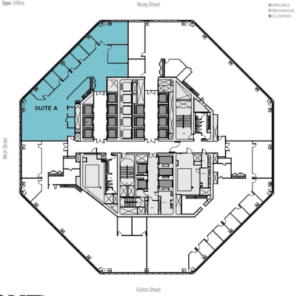 7,945 RSF pre-built with offices, asks $79.00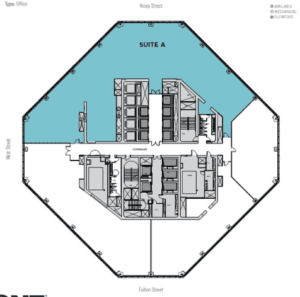 16,065 RSF, raw/unfinished Space, Call for rent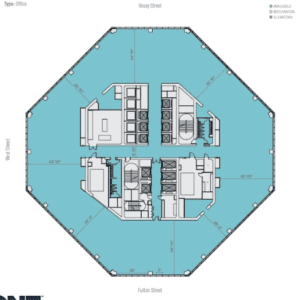 36,555 RSF, raw/unfinished space, asks $69.00
PRICING 
In 2017 the asking rents for office space at One World Trade Center range from $69.00 to $80.00 per rentable square foot (PSF) depending on the location in the building. Sample pricing follows.
 

2,750 RSF Office 
5,000 RSF Office
10,000 RSF Office

Lower floors @ $69.00 PSF

 

$15,812 per month    $189,750 per year 

$28,750 per month $345,000 per year

 $57,500 per month $690,000 per year

Mid Rise floors @ $73.00 PSF

$16,729 per month  $200,750 per year

$30,416 per month $365,000 per year

$60,833 per month  $730,000 per year

Upper floors  @ $80.00 PSF

$18,333 per month  $220,000 per year

$33,333 per month $400,000 per year

$66,666 per month $800,000 per year
Additional office overhead costs include electricity, annual rent increase and annual real estate tax increases. Municipal Incentives may be available when leasing office space in this building. Call for information.
One World Trade Center – Your Corporate HQ 
• Class A ultra-modern office building built in 2014
• 1,776 feet tall, the highest in the Western hemisphere
• 3,038,168 RSF total building area with 40,000 RSF floors and 104 floors
• 24- hour, 7- day access, uniformed lobby concierge, security monitoring and turn-style access cards for Tenants
• 71 fast passenger elevators and 12 escalators
• Sky Lobby on the 64th floor provides meeting areas and a lounge for the exclusive use of Tenants and their guests
• LEED Gold certification
• Owned and managed by Durst Corporation and the Port Authority of NY/NJ
• Alternate address: 285 Fulton Street, New York, NY 10007
The One World Trade Center Neighborhood
After 9/11, Lower Manhattan experienced a dramatic re-birth which continues to this day. It is currently a top destination for residential living as well as corporate headquarters. For a comprehensive list of hotels, dining, entertainment, shopping and special events link to the Downtown Alliance.
ABOUT COGENT REALTY ADVISORS 
Cogent Realty Advisors is an independent and licensed NO FEE Realtor with over 17 years of experience representing businesses that lease NYC office space. Our goal is to help you find the right office at the right price. For information, phone Mitchell Waldman at (212) 509-4049.
#oneworldtradeoffice