Sixth Avenue aka Avenue of the Americas, Office Rental Guide
Sixth Avenue aka Avenue of the Americas, Office Rental Guide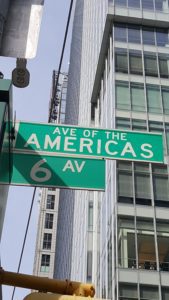 Sixth Avenue aka Avenue of the Americas, Office Rental Guide is written for corporate Tenants that lease commercial space. Avenue of the Americas (A of A for short) is NYC's most densely occupied and prestigious corporate corridor. It begins at 41st Street opposite Bryant Park and ends at 57th Street. Occupiers of offices along Sixth Avenue are a veritable "who's who" of the financial, legal, insurance, media and technology sectors. For the most part the ambiance is conservative but many buildings have been recently renovated and offer contemporary lobbies and sleek office spaces with loft finishes. 
Sixth Avenue Office Buildings
The table below identifies all of the Sixth Avenue office buildings situated between 41st and 57th Street.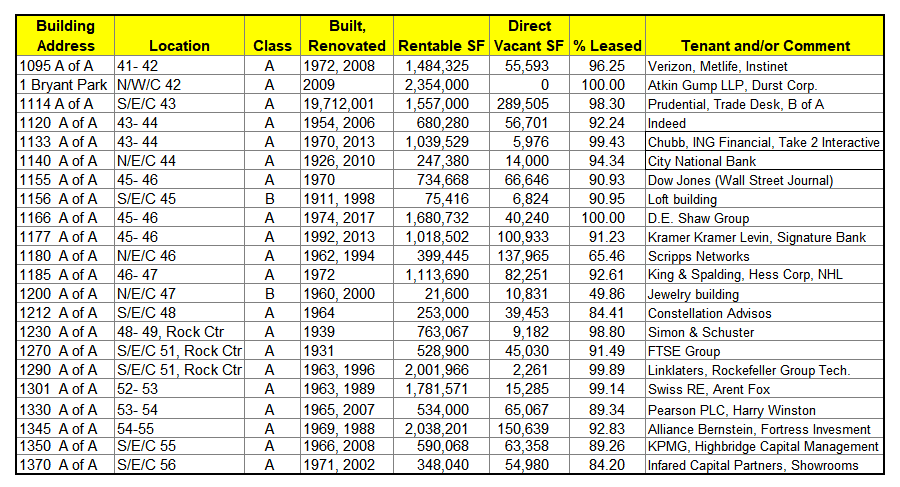 Pricing 
In 2019 the asking rents for most of the Class A office spaces on Sixth Avenue range from $72.00 to $95.00 per rentable square foot (PSF). Marquis office buildings such as 1095 and 1114 Sixth Avenue can charge as much as $125.00 PSF depending on the floor elevation and views. 
There is currently a large inventory of available space on Sixth Avenue. The unique design and "foot print" of each building provides opportunities for Tenants of all sizes. Offices as small as 1,500 rentable square feet can be found on multi-Tenanted floors.
Large users can lease private floors ranging in size from 8,500 to 43,000 RSF. 
On Sixth Avenue and elsewhere in NYC  office space can be categorized as follows: (1) A newly constructed office that is ready for immediate occupancy; (2) A pre-built and previously occupied office that a Landlord will renovate; (3) A demolished space that a Landlord will build-to-suit; and (4) A demolished space where a Landlord will provide a Cash Payment and Free Rent to a Tenant so it can design and construct its own office. 
Transportation-Centric Sixth Avenue
The lower half of Sixth Avenue (41st- 47th Street) is a short walk from Grand Central Terminal which contains the 4, 5, 6, 7 and S subway lines; M101, M102, M103, M1, M2, M3, M4, Q32 and M42 buses; Metro North Railroad, and the NYC Airporter. One block to the west is the Times Square Station with the N, Q, R, S, W, 1, 2, 3 & 7 subway. At the corner of Eight Avenue and 42nd Street the Port Authority Terminal offers bus service to NJ and beyond as well as the A, C, E subway. The Rockefeller Center office complex spans 48th to 51st Street and is served by B, D, F and M trains. 
THE NEIGHBORHOOD 
Because Sixth Avenue runs through the center of midtown, there is an abundance of nearby shopping, professional services, restaurants and bars that are supported by its large population of affluent office workers.  An expansive list of dining choices is found HERE.  The recently opened Whole Foods Market at Bryant Park (1095 Avenue of the Americas) is a casual dine in/take out favorite.  
ABOUT COGENT REALTY ADVISORS 
Cogent Realty Advisors is an independent and licensed NO FEE Realtor with 20 years of experience representing businesses that lease NYC office space. Our goal is to help you find the right office at the right price. For information, phone Mitchell Waldman at (212) 509-4049.
#SixthAvenueOffice