Sublease Risks & Sublease Rewards in 2020
Sublease 
Rewards 
& Sublease 
Risks
 in 2020
The impact of the Covid 19 pandemic on the New York City office market is now being revealed. In our recent blog NYC Office Rental Report July 2020, Cogent Realty predicted that "Sublease office space availability will increase and be offered at a discount". In recent weeks the volume of Subleases has indeed surged. Anecdotal evidence points to many of these Subleases originating in the TAMI (technology, advertising, media and internet) sector that had already been comfortable utilizing remote working. Some financial firms have listed their offices for Sublease after decentralizing operations and renting spaces in suburban areas. Surprisingly, a small number of law firms have determined that their NYC office is superfluous because most work can be accomplished offsite, with client discussions held online using apps like Zoom. Notwithstanding, critical "in person" meetings are still occurring in private offices and conference rooms that are rented by the hour.

Office owners brace for competition – from their tenants
Subleases are offered for rent by a Sub-landlord (the holder of the primary lease) so that they can dispose of their surplus office space and mitigate financial obligations. A Sublease can offer both rewards and risks to a Sub-Tenant (the company that rents and occupies the Subleased space).
SUBLEASE REWARDS THAT MAY BENEFIT SUB-TENANTS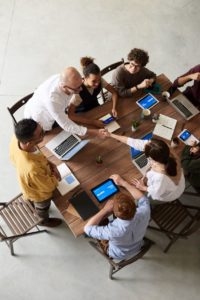 1. Rent is usually below the current market value.
2. Term length is often shorter than that which would be required by the building owner on a direct lease basis.
3. Office space is usually delivered pre-built and cosmetically finished. This eliminates the necessity of large capital outlays to renovate the space.
4. Potential inclusion of furniture, phones, network cabling, etc. This yields substantial savings.
5. Potential "turn key" move-in condition saves valuable time.
SUBLEASE RISKS THAT MAY INJURE SUB-TENANTS
1. As a Sub-tenant your lease contract is between you and the Sub-landlord. If the Sub-landlord defaults on its obligation to pay the rent to the building owner, a Sublease will usually terminate and the Sub-tenant is evicted.
2. As a Sub-tenant your Security Deposit is held by the Sub-landlord. In the event of financial difficulties or a default by the Sub-landlord, the Security Deposit can be lost.
Basic Strategies for Reducing Sublease Risks
1. Perform due diligence on the financial condition of the Sub-landlord and the outlook for its future business.
2. Your real estate attorney should have language added to the Landlord's Consent (this is the document by which the Landlord gives its approval of the Sublease) that requires that the Sub-Tenant is notified of any default by the Sub-landlord and provided with an opportunity to cure (correct) the default.
3, Where a substantial risk is perceived, your real estate attorney should have language added to Sublease document that requires that your Security Deposit is held in escrow.
About Cogent Realty Advisors
Cogent Realty Advisors is an independent and licensed no fee Realtor with 20 years of experience representing businesses that lease NYC office space. Whether your business is looking for a Direct Lease from a Landlord or a discounted Sublease, our knowledge and experience will protect your interests and yield positive results. For information contact Mitch Waldman at (212) 509-4049.
#SubleaseRewards2020