Tallest Office Building in NY
Tallest Office Building in NY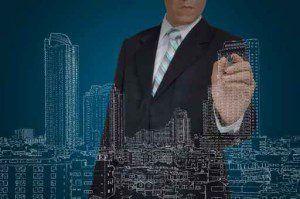 The race to build the world's tallest office building is continuing and the US (NY in particular) has lost much of its dominance. According to CNBC, 25 years ago 80% of the world's tallest buildings were in North America and now that number has dropped to 20%.  Antony Wood, Executive Director of the Council on Tall Buildings and Urban Habitat believes that the reason the tall-building boom has moved across the globe is due to the changes in world economics and demographics Additionally, Wood said "Cities are using skyscrapers to brand themselves as a developed city in the same way that corporate companies in America used skyscrapers to brand their corporation 30, 40, 50 years ago." Link here for an HISTORICAL PERSPECTIVE on tall buildings.
Tale of the Tape- NY's Tallest Office Building
One World Trade Center is the tallest office building in NYC (and the US) rising 1,776 feet and crowned by an Observation Deck. Opened in November 2014, its largest Tenants include Conde Nast (1.2 million SF), the China Center and the US General Service Administration. Smaller businesses requiring a minimum of 2,000 RSF are welcome and the Landlord will provide a high-end build-to-suit office for a 5- 10 year lease. Asking rents start at $75.00 PSF and can be discounted when combined with a bevy of Municipal Incentives.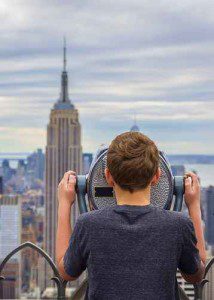 The Empire Stare Building was completed in 1931 and remained the tallest building in the world until the twin tower World Trade Center was completed in 1972. At present it is the 2nd tallest office building in NY and better than ever after completing a large modernization program from 2005- 2014. The iconic ESB is now attracting top technology companies like LinkedIn, Shutterstock, Brightroll and PaloAlto Networks. ESB offers a broad selection of gorgeous pre-built offices starting at $55.00 PSF.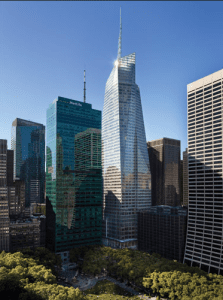 Bank of America Tower at One Bryant Park is 1,200 feet and the 3rd tallest office building in NY. Completed in 2009, it contains 2,353,000 RSF of space and is the first skyscraper to receive Platnium LEED Certification. In addition to its namesake, Tenant's include elite hedge funds, technology firms and the Stephen Sondheim Theatre, The building is 100% leased.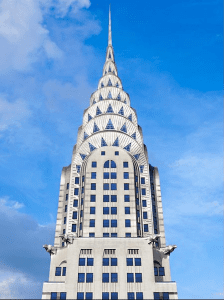 At 1,046 feet The Chrysler Building was briefly the world's tallest from 1930 to 1931, when it was eclipsed by the Empire State. The profile and Art-Deco style of NY's 4th tallest office building is recognized internationally. Located at 405 Lexington Avenue, it provides direct access to Grand Central Station. Pre-built and build-to-suit offices from 2,066 RSF to 36,000 RSF full floors are priced from $62- 80.00 PSF.
The New York Times Building at 620 Eighth Avenue (between 40th & 41st Street) sits opposite the Port Authority Bus Terminal. Completed in 2007, it is 1,046 feet tall with 1,826,800 RSF of office space. Tenants include the New York Times, law and technology firms. Recent asking rents at NY's 5th tallest office building were $65.00 PSF. It is now fully leased.
6) Four World Trade Center (2013): 978 feet.
7) Trump Building @ 40 Wall Street: (1930): 927 feet.
8) 601 Lexington Avenue (1977): 915 feet.
9) GE Building aka 30 Rockefeller Center (1933): 859 feet.
10) CitySpire Center @ 156 West 56th Street (1987): 815 feet.
FINDING space in ny's tallest office building
Cogent Realty Advisors has provided NO FEE Tenant Representation  to New York businesses for over 15 years. By utilizing our extensive commercial office database and an established network of professional contacts, we will find you an office that satisfies your specific requirements. Contact Mitchell Waldman today:  (212) 509-4049.