Tech Sector Needs More Offices in New York
Tech Sector Needs More Offices in New York
New York's technology sector now rivals that of Silicon Valley. The demand for cool office space has been met in creative ways. Previously staid building have spent heavily and installed modern lobbies, state-of-art infrastructure, expansive technology backbones and Tenant amenity spaces. Older conventional offices have been gutted and are now delivered with open ceilings, glass walls, polished concrete floors and stainless steel pantries.
Currently Operating 
Tech Centers  
Located steps from Grand Central Station, the 1 million square foot 335 Madison Avenue has been transformed into an Urban Tech Space. "Company is the first of its kind—a seamless integration of technology, hospitality, and purpose-built space."
This $2 billion campus on Roosevelt Island in the East River offers a mix of academic and office buildings, residences and a hotel. Cornell will share "The Tata Innovation Center", a 230,000 square foot building, with independent tech companies, venture capitalists and a full floor co-working space.
Tech Centers of the Future
NYC TECH HUB at 124 East 14th Street, NYC
This $200 million project is a joint venture between RAL Development Services and NYC's Economic Development Corporation. It will include a tech-focused training center and incubator, office space and a multi-vendor food hall.
West Chelsea Tech Center at Morgan North Postal Facility, 341 Ninth Avenue, NYC
Tishman Speyer is redeveloping 630,000 square feet of offices for tech users on the top floors of the 10- story postal facility. Construction will begin in 2020 and conclude in mid- 2022. The project targets large tech companies that can fill floors ranging in size from 48 to 200,000 square feet. A 2.5 acre roof-top garden is planned.
Advertising company Dentsu Aegis Network will anchor Tishman Speyer's Morgan North development at 341 Ninth Avenue in West Chelsea after signing for 320,000 square feet of office space.  Link to news report HERE.
Farley Building Postal Facility, 390 Ninth Avenue, NYC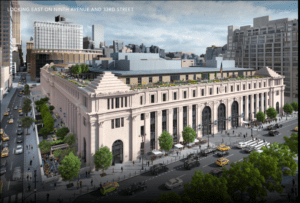 Vornado Realty Trust is redeveloping the James A. Farley Post Office which occupies one square block at the corner of Eighth Avenue and 34th Street. When completed it will contain  740,000 square feet of office space, 120,000 square feet of curated retail and new majestic train hall.
Facebook to grow West Side fiefdom with giant Farley Building lease
The move would bring the social media giant's New York City footprint to more than 3M sf
News story HERE
Corporate Occupied Tech Hubs
Google Campus, Hudson Square, NYC
Alphabet Inc., the parent company of Google, is spending $1 billion on a sprawling campus in Hudson Square. It will include 315 and 345 Hudson Street and 550 Washington Street. This is in addition to the Chelsea Market Building (75 Ninth Avenue) which was purchased for 2.4 billion in 2018.
Microsoft Research Center, 300 Lafayette Street, NYC 
Microsoft is leasing a 63,000 square foot office in a newly constructed building at the corner of Lafayette and East Houston Street. It is collaborative space occupied by researchers, engineers and developers.
Office Eye- Candy 
Crain's New York Business assembled a list of the coolest offices that made their debut in 2019.
About Cogent Realty Advisors
You will save valuable time, energy and money by using Cogent Realty to negotiate your lease. Cogent Realty is an independent and licensed NO FEE Tenant Representation Broker with over 20 years of experience representing NYC businesses. Cogent maintains an extensive Building and Landlord database as well as current "closed deal" contract information. We will find you the right space at the right price. Phone: (212) 509-4049.
#TechOffice