Technology Company Offices at One Penn Plaza
Technology Company Offices at One Penn Plaza
Technology Company Offices at One Penn Plaza include multi-national giants and cutting-edge innovators. The listing below is from sources deemed reliable and subject to change. 
Why Technology Companies Locate at One Penn Plaza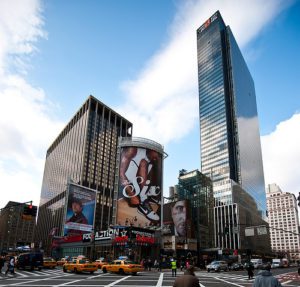 ♦ Highest quality office building in the area
♦ Direct access to public transportation at Penn Station 
♦ Safe work environment with continual security monitoring
♦ 24/7/365 access, building services and onsite management
♦ Local amenities including restaurants, banking, hotels, shopping and professional services
One Penn Plaza building Facts at a Glance
• Constructed in 1972. Recent capital improvements total $85 million.
• 2,524,000 total building area. 57 stories tall and rising 750 feet.
• Ceiling heights from 12′ to 15′. Floor loads 50 lbs. per SF. Electricity 6 watts per USF.
• Central HVAC provided during standard business hours. Overtime and supplemental AC is available.
• Fully sprinklered building with emergency lighting and power.
• LEED and Energy Star certified. 
• Telecom providers include Verizon, Cogent, MCI/Verizon Business, Time Warner Telecom, Con Ed, AT&T, Time Warner Cable, Direct TV, Light Tower.
Lease Information for Technology Company Offices at One Penn Plaza
In 2018 quoted asking rents range from $68.00 per rentable square foot (PSF) in the base of the building up to $75.00 PSF on upper floors. Offices sizes as small as 2,000 RSF and as large as 61,000 RSF full floors are available. 
As an incentive to lease space at One Penn Plaza, the Landlord will design and construct an office to your specifications. Included are the services of an architect to assist with space planning. As an alternative, some technology companies may elect to construct the office on their own by utilizing money (the "cash contribution") and time (the "rent abatement") provided by the Landlord.
COGENT REAL

TY

represents technology companies
Cogent Realty Advisors is an independent and licensed NO FEE Realtor with over 15 years of experience representing businesses that lease NYC office space. Our goal is to help you find the right office at the right price. For information, phone Mitchell Waldman at (212) 509-4049.
#TechnologyCompany