Tower 45 Office Rental Guide
Tower 45 Office Rental Guide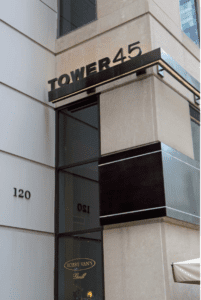 Tower 45 is a contemporary office tower occupied by boutique financial, technology and law firms. It is located at 120 West 45th Street between Sixth Avenue and Broadway. 
Tower 45 is an excellent choice for shrewd small- to midsize- firms that want to reduce their rent overhead by 15- 25% compared to comparable Class A buildings on Sixth Avenue. 
Office Building & Design
120 West 45th Street constructed in 1988 and renovated in 2011. Full floors measure from 9,304 to 13,969 RSF, are nearly column free and easily dividable. With four exposures there is a high window to floor area ratio. Both office intensive and open landscape designs are bright and efficient. Higher floors have excellent light and panoramic views that include Central and Bryant Parks, Lower Manhattan and NY Harbor.
Incoming Tenants can lease turn-key fully constructed office suites that are ready for immediate occupancy and raw spaces that the Landlord will build-to-suit. When an office is custom-built a 7- 10 year lease term is required.  Sample offices are shown below:
Office Pricing at Tower 45 
For 2018/19 the asking rent for offices range from $68.00 to $78.00 per rentable square foot (PSF) depending on the location in the building. Cogent Realty has a track record negotiating lower rents and other leasing incentives like free rent for its clients. Call us for details, 212-509-4049.
Your Corporate HQ at Tower 45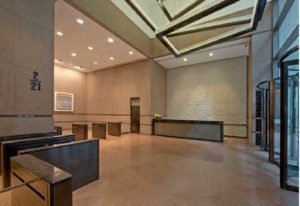 ♦ Class A office tower, constructed in 1988. 
♦ Entrance located in a 175 foot tall atrium.
 ♦ 24-hour, 7- day access. Uniformed lobby concierge.
 ♦ 458,446 SF total building area. Concrete and steel construction. 40 stories tall and rising 451 feet.
♦ 9 passenger and one freight elevator.
♦ Floors range from 9,304 to 13,969 RSF.
♦ 12 foot slab-to-slab ceiling heights. 
♦ Efficient central heating and air conditioning with low-cost overtime charges.
♦ AtmosAir™ air purifying technology.
♦ Telecom providers include CenturyLink, Cogent, Level 3, Pilot Fiber and Verizon.
♦ New York, NY 10036.
Great Location for Transportation and Meetings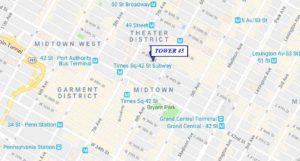 Tower 45 at 120 West 45th Street is a short walk from Grand Central Station, Bryant Park, Rockefeller Center and Port Authority Terminal. The nearby Times Square subway station offers connections to the A, C, E, N, Q, R, S, 1, 2, 3 and 7 trains.
Two Great Amenities at Tower 45 
About Cogent Realty Advisors
Cogent Realty Advisors is an independent and licensed NO FEE Realtor with over 15 years of experience representing businesses that lease NYC office space. Our goal is to help you find the right office at the right price. For information, phone Mitchell Waldman at (212) 509-4049.
#Tower45